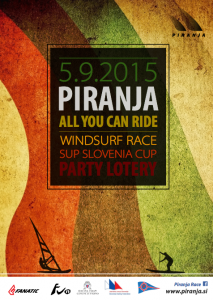 Pirat Sailing Club is warmly inviting you to the 8th edition of Piranja.
All You Can Ride Windsurf Race and SUP Contest in the charming Piran Bay, Slovenia, on September 5th 2015.
Program:
12.00 – starting signal for the windsurfing race
15.00 – starting signal for the SUP race
Piranja race will consist of sailing and paddling contests, followed by the prize-giving ceremony later in the afternoon, a nice every-ticket-wins-lottery, delicious lunch & dinner, free drinks and a great party on Saturday evening.
The format of the race is long distance and will take place in any permissible weather conditions; the equipment is chosen by the sailor him- herself and will be classified. After the windsurfing race, a SUP contest will be held on Saturday afternoon. Piranja SUP contest is also valid for Slovenia Cup.
For more informaton please check www.piranja.si and our Facebook page Piranja Race where the notice of race and other information will be posted.
Registrations are open at www.piranja.si/prijava
See you there!
Miro