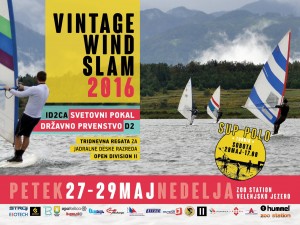 The week end 27-29 Mai took place in the lake Velenje of Slovenia the first official ID2CA event of the year under the name "vintage wind slam" in parallel with the national Slovenian championship.
In this race participated 20 sailors from 3 counties: Slovenia, Greece and Croatia with a variety of division 2 boards, like Lechner A390, Lechner L3, Velpas Burja, Imgrad D2,Tornado 39 and Sailboard regatta. All participants raced with type A ring.
In total 7 races has been done: 2 in form I and 5 stable points triangles. The whether was sunny and warm (typical spring- summer whether) with South gusty wind arriving in force the 13-14 knots maximum. Due to the gusty conditions and the sudden changes in the wind direction and force the rearrangements in the first places was very often during the regattas, this fact added a big interest between racers… but a big question of luck also.
Last day after the end of the Championship an open regatta took place in a stable points triangle course, where again the most sailors raced with div II boards, but with free sails.
The general impression of the race was a friendly but with the well known from the past competitive div II spirit and gave to all of as the hope for a new future for our class as we have seen a wide spectrum of ages participating: from young people until the characteristic of a "teenager "78 years old racing with the passion of a champion!
We finally like to say a BIG thanks to all members of zoo station local club especially Miro Scorjank , Stane Hafner and his family, and many more undercovered heroes who gave the most possible of their forces for the success of the event, giving to the foreign participants the sense of the perfect hospitality and of a perfect organization. We like to thanks also the racing comitee who had to overcome difficult (gusty) wind conditions and the international ISAF judge Mr Gerhart Erich Michel the presence of whom guaranteed the correct performance of the race.
Here are the final results of the race:
And a few pictures:
More pictures here:
https://www.facebook.com/stane.hafner/media_set?set=a.1384241048259109.1073741845.100000196811796&type=3
https://www.facebook.com/photo.php?fbid=1051270388271507&set=gm.1522857414398430&type=3&theater
https://www.facebook.com/photo.php?fbid=1049073995157813&set=gm.1512235105460661&type=3&theater
https://www.facebook.com/photo.php?fbid=1049073571824522&set=gm.1512233655460806&type=3&theater
and a video of the fleet of the race:
https://www.facebook.com/groups/OpenDiv2/
Stratos Efthyvoulidis