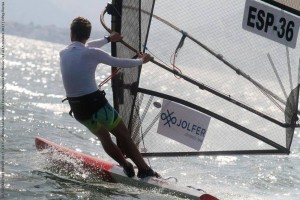 The last event of the season took place in the mar menor from 13th to 15th of Octobe during the Surfari, a mythic  windsurfing contest. A fantastic place in the South of Spain where you can find sun ( 30º) , warm water ( 26º) and wind ( 8/15 knots). What's more interesting  for a DII sailor?
A perfect organization as they celebrated this year the 20th anniversary of the Surfari.
Friday morning all the sailors arrived and started to train.Nice to see new boards like the Kundaka, which is a new design adapted to the "C"type. As material we saw Kundaka, Lechner A390, Jaguar J9 and Reix Super Pro 84 with sails from 2Win2Sails, Loft and Techno 8.5.
The races started on Friday afternoon with 10/12 knots, really good conditions for DII with 3 victories  and a second place, then Omar Moreno with 3 second places and a victory ( both from Club Windsurf Formentera) and Laurent Chapalain to complete the podium with 2 3rd places and 2 4th places.
It has been really great to see to the high potential of the Kundakas, with a different design in hteir rear part as we can see usually in a DII, really more modern and efficient in the light.
Saturday was the big day for the Surfari with the long race open to all material from DI to Formula, RS:X, Techno and some real old school board !
3 races where  DII and Raceboard shared the same were launched with a similar result for the 2 first places, the 3rd one taken by Humberto Martinez from Cartagena.
1/ Alex Buchau, 2/ Omar Moreno, 3/ Huberto Martinez
Sunday was the end of the event with a first race announced for 11AM.…but finally delayed to 1PM. As a lot of people had a long road to do some left before the first start. The final results didn't change.
A fantastic week end with fun, friendship and a lot of time to discuss the development of the class in Spain, where we need material for the youngs. Seeing some hot spot as Cartagena, Formentera and possibly other is encouraging for the growth of the class.
At the end everybody agreed this is a marvelous place to make a DII big event, and our objective for next year is seeing 20 DII competing in a friendly way !
See you all in 2018 !
Results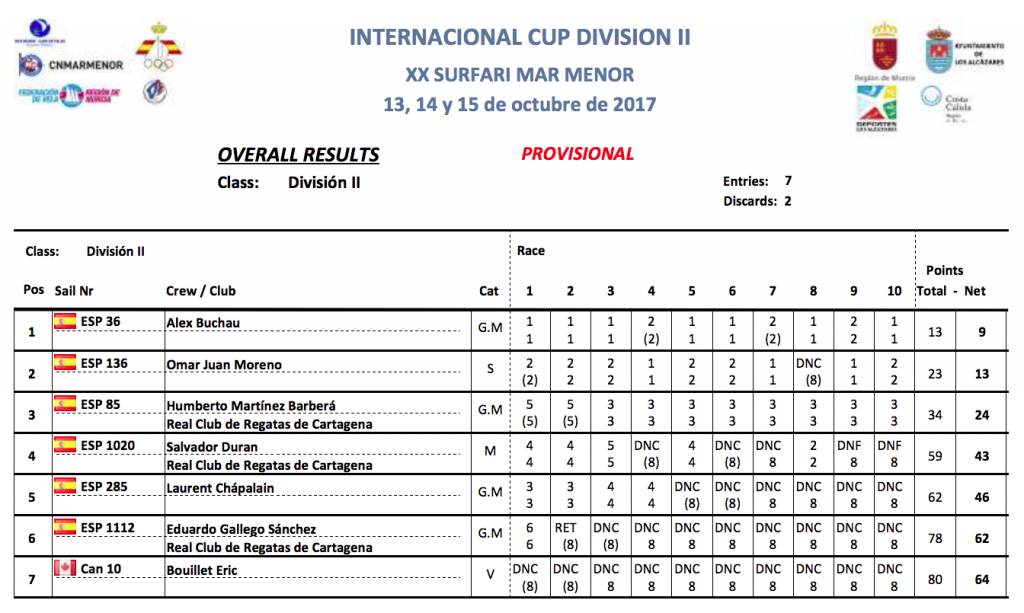 Pictures from the event
All pictures by CN Mar Menor
More info on the event here