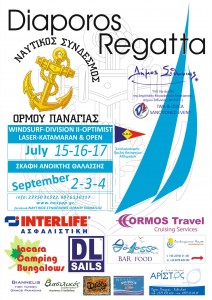 The WE 15-17/07/2016 took place in Ormos Panagias Halkidiki Greece Diaporos regatta, the 3rth official ID2CA event of the year.
The event was a multi class regatta where div 2, Catamaran, Laser and Topaz classes raced in separated starts.
The comity completed 8 races: 6 in form I (windward- leeward) and two Olympic triangles. The weather was the typical summer weather of Halkidiki: sunny, warm with mostly light winds (no more of 8-9 knots) and choppy sea.
Although the participation was small the spirit was the "old" good spirit of division 2 races. The final impression to all the participants was very satisfactory and for this reason they asked from the organizing club to repeat an event in September 2016. So we stay waiting for a new unofficial event next September if the conditions will permit, in order to give the possibility to people who could not attend in July to take a taste of this regatta in 2016 and of course our next appointment with the official event in 2017 is valid.
Here are the final results and some pictures of the race:

https://www.facebook.com/media/set/?set=oa.1582984068385764&type=1
https://www.facebook.com/photo.php?fbid=1082745688457310&set=gm.1581282668555904&type=3&theater
https://www.facebook.com/media/set/?set=oa.1583017745049063&type=1